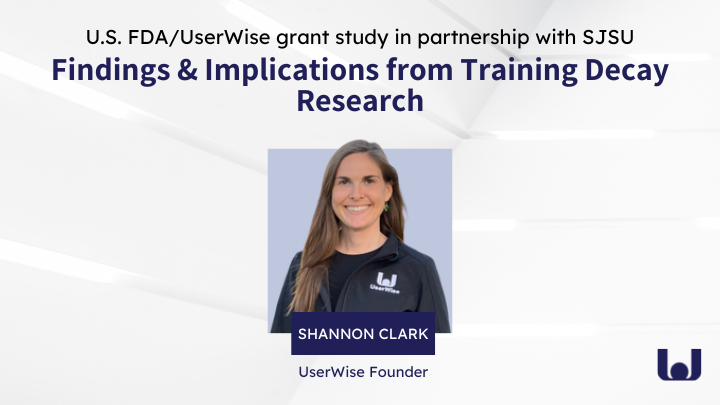 Thursday, December 8 | 9:00 AM PST

Findings & Implications from U.S. FDA-UserWise Training Decay Research
Presenter:
Shannon Clark, Founder & Principal
︎ Connect with Shannon
This webinar will cover the following:
• An overview of Training Decay and why it matters
• What does the FDA say about Training Decay
• Insights and revelations from our FDA-backed training decay research study
• How could our findings affect future regulatory policy
---
At least 5 years
of experience in medical device, or similarly regulated, industry
Tuesday, December 20 | 9:00 AM PDT
UserWise Town Hall Q&A

Hosted by UserWise Founder, Shannon Clark
︎ Connect with Shannon
Shannon will be answering your questions related to formative & summative usability testing, use-related risk analysis, regulatory documentation and correspondence related to human factors, and more. For example, "When is it appropriate to include training in human factors validation?" and, "How do we simulate proctors overseeing surgical use?"
How will it work?

First, register for the event. Then, click below to submit a question before the webinar begins. Your question may be chosen to be addressed during our Q&A. The deadline to submit questions is 12/16/2022.
Submit a question