At least 5 year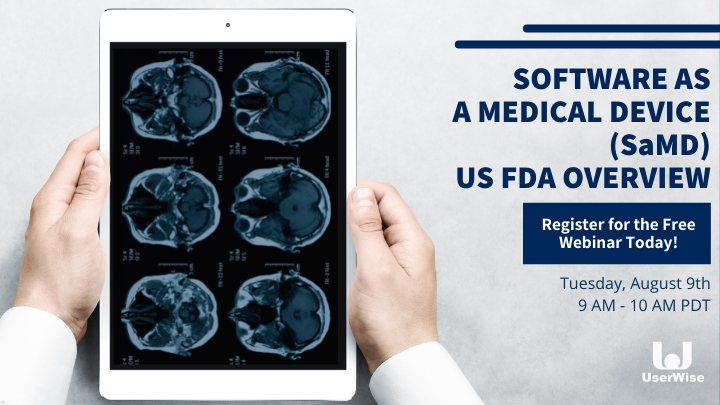 s of experience in medical device, or similarly regulated, industry
Tuesday, August 9 | 9:00 AM PDT
Software as a Medical Device (SaMD) US FDA Overview

Join Shannon Clark and Alex Weinberg on Tuesday, August 9 at 9:00 am PDT.
During this webinar we will cover:
• SaMDs& Connected Devices –Current and Future Applications
• Overview of Applicable U.S. FDA Regulatory Requirements for SaMD
• Review Unique Usability Engineering Considerations Related to SaMD
---
FDA Grant | Training Decay Study Series

UserWise has been collaborating with the FDA and San Jose State University (SJSU) on FDA-grant-funded research to evaluate the impact of training decay duration on participant's performance in medical product human factors validation testing. In January 2020, we successfully completed an initial pilot study. Today, we are nearly finished running sessions and expect to report on the "Training Decay Selection for Medical Product Usability Validation Testing" results by 3rd Quarter 2022. We have prepared a series of webinars to inform our colleagues and the medical product community on the results of this exciting research. Be sure to reserve your spot today!

About UserWise: Our mission is to inspire usability engineering best practices within medical device companies to facilitate the development of world-class medical devices. We are passionate about designing usable devices that are safe, effective, and easy to use. We work collectively with your team to reduce overall medical device risk by following the Usability Engineering Process.