FDA Grant | Training Decay Study Series

UserWise has been collaborating with the FDA and San Jose State University (SJSU) on FDA-grant-funded research to evaluate the impact of training decay duration on participant's performance in medical product human factors validation testing. In January 2020, we successfully completed an initial pilot study. Today, we are nearly finished running sessions and expect to report on the "Training Decay Selection for Medical Product Usability Validation Testing" results by 3rd Quarter 2022. We have prepared a series of webinars to inform our colleagues and the medical product community on the results of this exciting research. Be sure to reserve your spot today!

About UserWise: Our mission is to inspire usability engineering best practices within medical device companies to facilitate the development of world-class medical devices. We are passionate about designing usable devices that are safe, effective, and easy to use. We work collectively with your team to reduce overall medical device risk by following the Usability Engineering Process.


Webinar 1: Introduction to Training Decay
Join Denise Forkey and Shannon Clark, Tuesday, May 3 at 9:00 am PDT for the first presentation in a new webinar series on the FDA Training Decay grant study.
During this webinar we will cover:
• Background of the Research Study
• Overview of the Pilot Study Results
• How to Apply Study Findings in Practice
---
Webinar 2: Training Decay Recruitment Process & Challenges

Join Chris Jakubowski, Wednesday, May 18 at 11:00 am PDT for an overview and analysis on participant recruitment for the FDA Training Decay grant study.

During this webinar you will learn:
• Target User Group & Recruitment Process
• Recruitment of a Representative Population
• Challenges Faced
• Implications for Future Studies

Registration Opens May 2022

---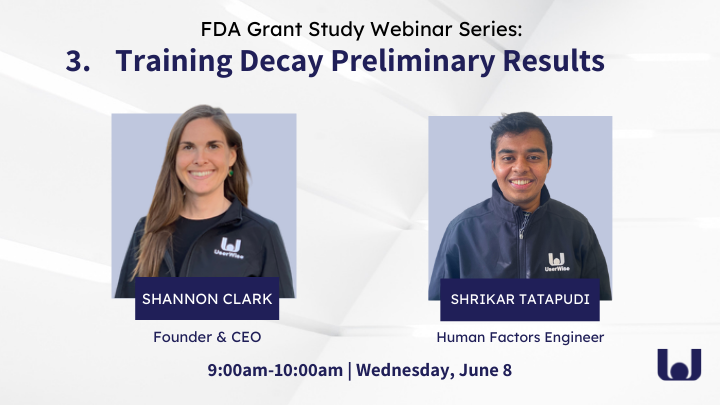 Webinar 3: Training Decay Preliminary Results

Join Shannon Clark and Shrikar Tatapudi, Wednesday, June 8 at 9:00 am PDT for the first presentation on data from the FDA Training Decay grant study.

During this webinar you will learn:
• Background of the Research Study
• Overview of the Study Design
• Interim Analysis

Registration Opens May 2022

---